iConverter Copper-to-Fiber Media Converters

iConverter managed copper-to-fiber media converters provide seamless integration of copper and fiber in Enterprise, Government and Carrier networks. iConverter media converter modules support a wide variety of protocols, data rates and cabling media types for flexible fiber connectivity in diverse network topologies. Select iConverter models support advanced switching capabilities and iConverter Fiber-to-Fiber NIDs feature integrated management and carrier-grade fault detection capabilities.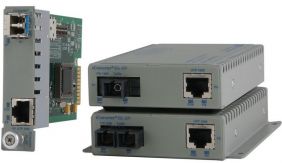 iConverter media converter modules that support pluggable transceivers enable connectivity between copper network devices and fiber with a variety of distances and wavelengths. Pluggable transceivers that support CWDM wavelengths to enable connectivity to iConverter CWDM multiplexer modules.
 

Technologies Supported:

10, 100, 10/100 Ethernet
10/100/1000 and Gigabit Ethernet
10 Gigabit Ethernet
T1/E1
T3/E3/DS3
Serial

 

Fiber and Connector Types:

SFP, SFP+ and XFP Transceivers
SFP, SFP+ and XFP CWDM Transceivers
ST, SC, LC and MT-RJ Connectors
Single Mode and Multi-mode Fiber
Dual and Single Fiber
---