iConverter 10/100M2
10/100BASE-T UTP to 100BASE-X Intelligent Media Converter and Network Interface Device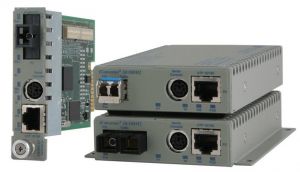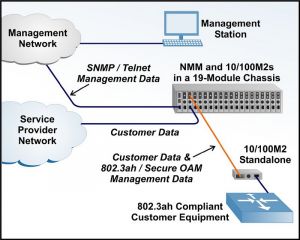 adatlap
Jellemzők
Carrier-Grade optical Ethernet Network Interface Device
Integrated SNMPv1, SNMPv2c, SNMPv3 and IP-less 802.3ah management
802.3ah Link OAM for early fault detection and performance monitoring
VLAN with Q-in-Q for E-Line and E-LAN services
Quality of Service for Voice/Data/Video over Ethernet
Bandwidth control (rate limiting) with 64Kb increments
Port MIB statistics and optical performance statistics to support Service Level Agreements
Port Access Control for enhanced security
2,048 byte Jumbo frames
Layer 2 Control Protocol (L2CP) Policy Control
Configurable Link Fault Propagation modes
Small Form Pluggable (SFP) transceivers with Optical Statistics for standard or CWDM applications
Fixed-fiber connectors available for multimode and single-mode dual fiber and single-mode single-fiber
UTP auto-crossover and auto-negotiation of data rate, duplex modes and pause capabilities
Commercial (0 to 50ºC), wide (-40º to 60ºC) and extended (-40º to 75º C) temperature ranges
MEF 9 and 14 Certified Compliant
NEBS Level 3 Compliant
Lifetime Warranty and free 24/7 Technical Support
Alkalmazás
The iConverter® 10/100M2 conforms to the Ethernet in the First Mile (EFM) fiber standards to support Fiber-to-the-X Metropolitan and Enterprise LAN networks. The 10/100M2 provides intelligent, securely managed service demarcation at the customer premises, offering Layer 2 Control Protocol (L2CP) policy control, Quality of Service and enhanced Bandwidth Control (rate-limiting) capabilities. The 10/100M2 features built-in Operations, Administration and Maintenance (OAM) with comprehensive performance monitoring, fault detection and provisioning.
The 10/100M2 is available as a compact standalone unit or as a chassis plug-in module. The hot-swappable 10/100M2 plug-in module can be mounted in a 19 or 5-Module chassis with any combination of redundant AC and DC power supplies. It can also be mounted in a 2-Module AC or DC powered chassis, or in a 1-Module chassis with AC or DC power input.
The plug-in module can manage other modules in the same chassis and operate as a managed 10/100 media converter. It features two Ethernet backplane ports for connectivity to adjacent modules in a chassis for multi-port and multi-service configurations.
The standalone 10/100M2 is available as a tabletop or wall-mount unit. The tabletop model can be DIN-rail mounted using an optional DIN-rail mounting kit. Both the tabletop and the wall-mount models are DC powered and are available with an external AC/DC power adapter or a terminal connector for DC power. The 10/100M2 standalone unit combines management capability with a compact chassis for deployment at the demarcation point.
Carrier-Grade Optical Ethernet
 

iConverter fiber access Network Interface Devices and media converters are MEF 9 and 14 certified compliant and NEBS Level 3 compliant. iConverter NIDs enable Carrier-Grade Optical Ethernet with reliability and performance monitoring to support Service Level Agreements (SLAs).

The modular design of iConverter fiber access equipment future-proofs Metro Ethernet services with scalability of network services and lowers operating costs with comprehensive OAM management and provisioning.

 
Metro Ethernet Access
At the Central Office, the 10/100M2 plug-in module is installed in a managed iConverter 19-Module chassis for high-density fiber distribution from UTP switch equipment. At Customer Premises 1, the 10/100M2 plug-in module is installed in a 2-Module chassis with an iConverter 4TxVT four-port switch module. The two modules share data via the Ethernet Backplane. This configuration functions as a remotely managed demarcation switch with a fiber uplink port to the Central Office and five copper ports that drop off Ethernet service. At Customer Premises 2, the 10/100M2 standalone NID provides a fiber uplink to a single copper port for intelligent demarcation of Ethernet services.
Paraméterek
Description
10/100BASE-T UTP to 100BASE-FX
Fiber Media Converter
and Network Interface Device
Protocols
10BASE-T, 100BASE-TX, 100BASE-FX with
2048 bytes max. frame size
UTP Cable
EIA/TIA 568A/B, Category 5 and higher
Fiber Cables
Multimode: 50/125, 62.5/125, 100/140μm
Single-mode: 9/125μm
Serial Cable
RS-232, 22 to 24 AWG, 12 to 50 pF/ft.
UTP Connector
RJ-45
Fiber Connectors
- SFP
- Dual Fiber
- Single-Fiber

LC
SC, ST, LC, MT-RJ
SC
Serial Connector
Mini DIN-6 female,
mini DIN-6 male to DB-9 female adapter included
Controls
DIP-Switches and LEDs
DC Power
Plug-In Module: 0.9A @ 3.3VDC
Standalone: 8-15VDC,
0.5A @ 9VDC
DC Power Connector
Plug-In: Power supplied by backplane
Standalone: 2.5mm Barrel Connector
or Field-wireable Terminal Connect
AC Power Adapter
[US]
Plug-In Module: N/A
Standalone: 100-120VAC/60Hz
0.06A @ 120VAC
AC Power Adapter
[Universal]
Plug-In Module: N/A
Standalone: 100-240VAC/50-60Hz
0.06A @ 120VAC
Dimensions
Plug-In Module: W:0.85" x D:4.5" x H:2.8"
Standalone: W:3.1" x D:4.8" x H:1.0"
Wallmount: W:3.8" x D:4.8" x H:1.0"
Weight
without power adapter
Plug-In Module: 8oz.
Standalone: 1 lb.
Weight
with power adapter
Plug-In Module: N/A
Standalone: 1.5 lb.
Compliance
UL, CE, FCC Class A, MEF 9, MEF 14
IP-Based Management
Telnet; SNMPv1, SNMPv2c, SNMPv3
Temperature
Standard Operating: 0 to 50º C
Wide Operating: -40 to 60º C
Extended Operating: -40 to 75 º C
Storage: -40 to 80º C
Humidity
5 to 95% (non-condensing)
Altitude
-100m to 4000m
MTBF (Hours)
Plug-In Module and Standalone without Power
Adapter: 550,000
Standalone With Power Adapter: 250,000

Fiber Type / Dual Fiber or Single-Fiber
Distances
Connector Type
Tx λ (nm)
Rx λ (nm)
Min.
Tx Power (dBm)
Max.
Tx Power (dBm)
Min.
Rx Sense (dBm)
Max.
Rx Sense (dBm)
Link Budget
(dBm)
ST
SC
MT-RJ
LC
SFP
SFP
-
-
-
-
-
8919N-0
-
-
-
-
-
-
-
MM/DF
5km
8900N-0
8902N-0
8904N-0
-
-
1310
1310
-24
-14
-31
-14
7
SM/DF
30km
8901N-1
8903N-1
8905N-1
8907N-1
-
1310
1310
-15
-8
-31
-8
16
SM/DF
60km
8901N-2
8903N-2
-
8907N-2
-
1310
1310
-5
0
-31
-3*
26
SM/DF
120km
-
8903N-3
-
8907N-3
-
1550
1550
-5
0
-31
-3*
26
SM/SF
20km
-
8910N-1
-
-
-
1310
1550
-15
-5
-30
-3
15
SM/SF
40km
-
8910N-2
-
-
-
1310
1550
-8
0
-30
-3*
22
SM/SF
20km
-
8911N-1
-
-
-
1550
1310
-15
-5
-30
-3
15
SM/SF
40km
-
8911N-2
-
-
-
1550
1310
-8
0
-30
-3*
22

When using single-fiber (SF) media converter models, the Tx wavelength on one end has to match the Rx wavelength on the other.
*A minimum of 3dB of attenuation is required for these models.
When ordering a Wide Temperature model, add a "W" to the end of the part number, and when ordering an Extended Temperature model, add a "Z" to the end of the part number (see chart above).
Chassis and Mounting Options Ordering Table
 
19-Module
5-Module
2-Module
1-Module
Configuration
AC
(60 watts)
AC
(120 watts)
24VDC
48VDC
AC
24VDC
48VDC
AC
18-60DC
US AC
UNIV AC
One (1) Power Supply
8200-1
8201-1
8206-1
8205-1
8220-1
8226-1
8225-1
8230-0
8235-0
8240-1
8240-2
One (1) Power Supply with Dying Gasp Support
-
-
-
-
-
-
-
8230-1
8235-1
8241-1
8241-2
Two (2) Power Supplies
8200-2
8201-2
8206-2
8205-2
8220-2
8226-2
8225-2
-
-
8245-111*
8245-112*
Three (3) Power Supplies
8200-3
8201-3
8206-3
8205-3
-
-
-
-
-
-
-
Spare Power Supply
8200-9
8201-9
8206-9
8205-9
8220-9
8226-9
8225-9
-
-
-
-
23" Rack Mounting Kit
8091-2
8091-2
8091-2
8091-2
8092-2
8092-2
8092-2
-
-
-
-
Blank Module Panel
8090-0
8090-0
8090-0
8090-0
8090-0
8090-0
8090-0
8090-0
8090-0
-
-
Wall Mounting Hardware Kit
-
 
-
-
-
-
-
8249-0
8249-0
8249-0
8249-0
1U 19" Rack Mount Shelf
-
-
-
-
-
-
-
8260-0
8260-0
8260-0
8260-0
DIN Rail Mounting Kit
-
 
-
-
-
-
-
-
-
8250-0
8250-0

When ordering a Wide Temperature chassis, add a W to the end of the part number. For example:8230-1W
Consult factory for extended temperature (-40 to +75º C) models.
* Click on part number for complete ordering information on the 1-Slot Redundant Power Chassis with Power over Ethernet