iConverter STM1
Coax to Fiber Media Converter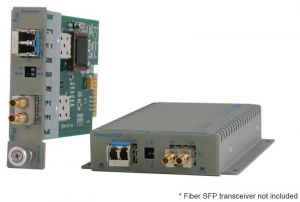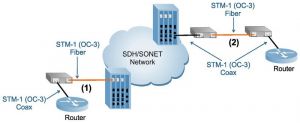 adatlap
Jellemzők
Converts STM-1 or OC-3 75 Ω coax to fiber
Features standard STM-1e coax interface with mini-BNC connectors
Adapter cables convert to standard BNC type connectors
Features standard STM-1o (or OC-3) optical interface
Standalone or plug-in module
Modules are hot-swappable in 19-Module, 5-Module, 2-Module or 1-Module chassis
Managed or unmanaged
Per port LED status display
Lifetime Warranty and free 24/7 Technical Support
Alkalmazás
The following application shows a typical SDH/SONET network where the SDH/SONET Add/Drop multiplexers drop off STM-1 (OC-3) coax or fiber to customer premises. The SDH/SONET routers at the end of each drop utilize coax interfaces.
The diagram depicts two applications of the iConverter STM1 copper-to-fiber media converter.
In the case of a coax drop from the network (a), two converters are used to convert the coax to fiber, and then back to coax for connection to the router. The use of the media converters allows the STM-1 electrical signal to reach far beyond the distance limitations of the coax.
In the case of a fiber drop from the network (b), a single converter is used to convert the optical fiber to coax, for connection to the router.
The iConverter STM1 copper-to-fiber media converter converts 155.52 Mbps STM-1e coax to STM-1 fiber. It can be used in Telecom or Enterprise applications where STM-1 or OC-3 transport is required beyond the maximum distance of copper (approximately 70m).
The copper port provides two mini-BNC 75Ω coax connectors that comply with the ITU-T G.703 and Telcordia GR-253 standards for CMI coded 155.52 Mbps electrical interfaces. Adapter cables are included to convert the mini-BNC connectors to standard BNC type connectors.
The fiber port accepts any standard, MSA compatible 155.52 Mbps Small Form Pluggable (SFP). Please refer to Omnitron's SFP data sheet for standard STM-1/OC-3 and CWDM wavelength SFPs for ordering information.
The iConverter STM1 media converter is available as a compact, unmanaged standalone unit, or as a chassis managed plug-in module. The hot-swappable plug-in module can be mounted in a 19 or 5-Module chassis with any combination of redundant AC and DC power supplies. It can also be mounted in a 2-Module AC or DC powered chassis, or in a 1-Module chassis with AC or DC power input.
The standalone unit is wall-mountable. It is DC powered and is available with an external AC/DC power adapter or a terminal connector for direct DC power.
The iConverter Multi-Service Platform consists of Network Interface Devices, T1/E1 multiplexers, CWDM multiplexers and managed media converters that combine to deliver Carrier Ethernet and TDM services over fiber or CWDM wavelengths. This flexible architecture supports a wide variety of configurations for scalable and reliable fiber connectivity in Service Provider and Enterprise networks.
Paraméterek
Model Type
iConverter STM 1 Coax to Fiber Converter
Protocols
STM-1, STS-3/OC-3
Compliance
UL, FCC Class A, CE
Fiber Interface
ITU-T-G.957, Telcordia GR-253
Physical interface: SFP
Copper Interface
ITU-T G.703 and Telcordia GR-253 for CMI
coded 155.52Mbps electrical interfaces.

Physical interface: mini-BNC connectors.
Adapter cables for full size BNC connectors
also included"
Controls 
LP, RFD
Dimensions
Plug-in:
Standalone:
W 0.85" x D 4.5" x H 2.8"
W 3.8" x D 4.8" x H 1.0"
Weight
Plug-in:
Standalone without Power Adapter
Standalone without Power Adapter
8 oz.

1.0 lb.

1.5 lb.
DC Power Connector
Plug-in:
Standalone:
Power supplied by backplane
2.5mm Barrel Connector or
2 Pin Terminal Connector
DC Power
Requirement (typical)
Plug-in:
Standalone:
0.5A @ 3.3VDC
7 - 32VDC
0.3A @ 9VDC (1.0A max)
AC Power Adapter
[US] 
Plug-in:
Standalone:
N/A
100 - 120VAC/60Hz
0.05A @ 120VAC
AC Power Adapter
[Universal]
Plug-in:
Standalone:
N/A
100 - 240VAC/50 to 60Hz
0.05A @ 120VAC
Temperature
Standard:

Wide:

Storage:
0° to 50° C

- 40° to 60° C

- 40° to 80° C
Humidity
5 to 95% (non-condensing)
Altitude
-100m to 4000m
MTBF (hrs)
Plug-in:

Standalone
with US Power Adapter:

Standalone
with Universal Adapter:
900,000


250,000


100,000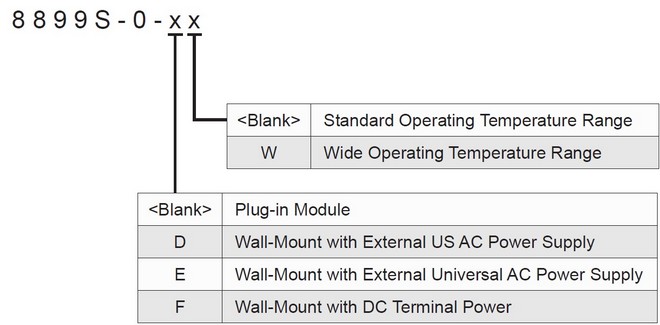 Example 8899S-0-DW = STM1 Wall-Mount with External US AC Power Supply and Wide Temperature Operating Range
Chassis and Mounting Options Ordering Table
 
19-Module
5-Module
2-Module
1-Module
Configuration
AC
(60 watts)
AC
(120 watts)
24VDC
48VDC
AC
24VDC
48VDC
AC
18-60DC
US AC
UNIV AC
One (1) Power Supply
8200-1
8201-1
8206-1
8205-1
8220-1
8226-1
8225-1
8230-0
8235-0
8240-1
8240-2
One (1) Power Supply with Dying Gasp Support
-
-
-
-
-
-
-
8230-1
8235-1
8241-1
8241-2
Two (2) Power Supplies
8200-2
8201-2
8206-2
8205-2
8220-2
8226-2
8225-2
-
-
8245-111*
8245-112*
Three (3) Power Supplies
8200-3
8201-3
8206-3
8205-3
-
-
-
-
-
-
-
Spare Power Supply
8200-9
8201-9
8206-9
8205-9
8220-9
8226-9
8225-9
-
-
-
-
23" Rack Mounting Kit
8091-2
8091-2
8091-2
8091-2
8092-2
8092-2
8092-2
-
-
-
-
Blank Module Panel
8090-0
8090-0
8090-0
8090-0
8090-0
8090-0
8090-0
8090-0
8090-0
-
-
Wall Mounting Hardware Kit
-
 
-
-
-
-
-
8249-0
8249-0
8249-0
8249-0
1U 19" Rack Mount Shelf
-
-
-
-
-
-
-
8260-0
8260-0
8260-0
8260-0
DIN Rail Mounting Kit
-
 
-
-
-
-
-
-
-
8250-0
8250-0
 
When ordering a Wide Temperature chassis, add a W to the end of the part number. For example:8230-1W
Consult factory for extended temperature (-40 to +75º C) models.
* Click on part number for complete ordering information on the 1-Slot Redundant Power Chassis with Power over Ethernet