iConverter RS232
Managed Serial RS-232 to Fiber
Media Converter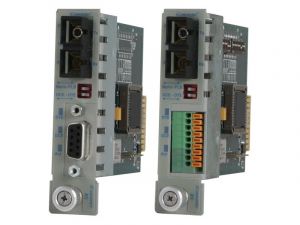 adatlap
Jellemzők
Managed Serial RS-232 to fiber media converter with automatic baud rate detection
Supports baud rates ranging from 110 to 921,600 baud
Supports multimode, single-mode and single-fiber with ST, SC, LC and MT-RJ connectors
Supports distances up to 5km on multimode and 120km on single-mode
Supports DB-9 and Terminal Block connector options for serial RS-232 interface
DIP-switch configuration of DTE or DCE device for easy connection to serial devices
Supports RTS, CTS, DCD, DTR and DSR controls
Features remote fiber loopback switch for easy testing of fiber link, even during serial transmission
Management is available with the addition of a management module to the chassis
SNMP management via NetOutlook® provides real-time port and module information, remote parameter configuration and trap notification
Modules are hot-swappable in 19-Module, 5-Module, 2-Module or 1-Module chassis
Lifetime Warranty and free 24/7 Technical Support
Alkalmazás
The Omnitron iConverter RS232 is a managed serial RS-232 to fiber converter that transmits serial protocol over fiber media. Fiber transmission extends the serial signals up to 120km, and is immune from electrical and magnetic interference.
The RS232 supports single-mode, multimode, and single-fiber. The serial port interface is available with either a DB-9 female connector or terminal block connector for field wiring.
The RS232 automatically detects the signal baud rate of the connected serial device, ranging from 110 to 921,600 baud. It also automatically adjusts to changes in the connected device's baud rate during operation without reconfiguration or interruption of service.
Connection to DTE or DCE devices is configured by an easily accessible DIP-switch on the front-panel of the module. This feature eliminates the need to use a null-modem cable when connecting two serial devices of the same type.
A built-in Fiber Loopback DIP-switch provides easy validation of the entire fiber segment without interrupting fiber operations.
iConverter RS232 modules are hot-swappable and can be mounted in a 19-Module (2U high) or 5-Module (1U high) rack-mountable chassis (19-inch or 23-inch) with any combination of redundant AC, 24VDC or 48VDC power supplies. They can also be mounted in a 2-Module AC or 18 to 60VDC powered chassis, or in a 1-Module AC/DC powered chassis.
The iConverter family of managed fiber access media converters are used in Service Provider access networks and Enterprise LANs. iConverter media converters provide fiber connectivity with copper-to-fiber, multimode fiber to single-mode fiber, or dual fiber to single-fiber conversions.
Paraméterek
Model Type
RS232
Protocols
Asynchronous Serial RS-232
Copper Connectors
DB-9 Female or
Terminal Block
Fiber Connectors
ST, SC, MT-RJ, LC
Controls
DTE/DCE, Fiber Loop-Back
LED Displays
Power, Test, Fiber Lnk/Act,
DTE, DCE, Serial Act
Dimensions
W:0.85" x D:4.5" x H:2.8"
Weight
8 oz.
Compliance
UL, CE, FCC Class A
Power Requirement
0.5A @ 3.3VDC (typical)
Temperature
Standard: 0 to 50º C
Wide: -40 to 60º C
Storage: -40 to 80º C
Humidity
5 to 95% (non-condensing)
Altitude
-100m to 4000m
MTBF (hrs)
850,000
Model Type
Fiber / Media Type
Distance
Connector Types
Tx λ (nm)
Rx λ (nm)
Min.
Tx Power (dBm)
Max.
Tx Power (dBm)
Min.
Rx Sense (dBm)
Max.
Rx Sense (dBm)
Link Budget
(dBm)
ST
SC
MT-RJ
LC
RS232 Dual Fiber
MM
5km
8760-0
8762-0
8764-0
-
1310
1310
-24
-14
-31
-14
7
SM
30km
8761-1
8763-1
8765-1
8767-1
1310
1310
-15
-8
-31
-8
16
SM
60km
8761-2
8763-2
-
8767-2
1310
1310
-5
0
-31
-3*
26
SM
120km
-
8763-3
-
8767-3
1550
1550
-5
0
-31
-3*
26
RS232 Single-Fiber
SM
20km
-
8770-1
-
-
1310
1550
-15
-5
-30
-3
15
SM
40km
-
8770-2
-
-
1310
1550
-8
0
-30
-3*
22
SM
20km
-
8771-1
-
-
1550
1310
-15
-5
-30
-3
15
SM
40km
-
8771-2
-
-
1550
1310
-8
0
-30
-3*
22
 
For wide temperature (-40 to 60º C), add a "W" to the end of the model number.
Consult factory for extended temperature (-40 to +75º C) models.
When using single-fiber (SF) media converter models, the Tx wavelength on one end has to match the Rx wavelength on the other.
When ordering module with terminal block serial port, append 'T' before the dash '-' in the part number. Examples: 8760T-0, 8763T-3, 8770T-1
*A minimum of 3dB of attenuation is required for these models.
Chassis and Mounting Options Ordering Table
 
19-Module
5-Module
2-Module
1-Module
Configuration
AC
(60 watts)
AC
(120 watts)
24VDC
48VDC
AC
24VDC
48VDC
AC
18-60DC
US AC
UNIV AC
One (1) Power Supply
8200-1
8201-1
8206-1
8205-1
8220-1
8226-1
8225-1
8230-0
8235-0
8240-1
8240-2
One (1) Power Supply with Dying Gasp Support
-
-
-
-
-
-
-
8230-1
8235-1
8241-1
8241-2
Two (2) Power Supplies
8200-2
8201-2
8206-2
8205-2
8220-2
8226-2
8225-2
-
-
8245-111*
8245-112*
Three (3) Power Supplies
8200-3
8201-3
8206-3
8205-3
-
-
-
-
-
-
-
Spare Power Supply
8200-9
8201-9
8206-9
8205-9
8220-9
8226-9
8225-9
-
-
-
-
23" Rack Mounting Kit
8091-2
8091-2
8091-2
8091-2
8092-2
8092-2
8092-2
-
-
-
-
Blank Module Panel
8090-0
8090-0
8090-0
8090-0
8090-0
8090-0
8090-0
8090-0
8090-0
-
-
Wall Mounting Hardware Kit
-
 
-
-
-
-
-
8249-0
8249-0
8249-0
8249-0
1U 19" Rack Mount Shelf
-
-
-
-
-
-
-
8260-0
8260-0
8260-0
8260-0
DIN Rail Mounting Kit
-
 
-
-
-
-
-
-
-
8250-0
8250-0
 
When ordering a Wide Temperature chassis, add a W to the end of the part number. For example:8230-1W
Consult factory for extended temperature (-40 to +75º C) models.
* Click on part number for complete ordering information on the 1-Slot Redundant Power Chassis with Power over Ethernet