iConverter HybridNID
Network Interface Device with
Dual Management and Provisioning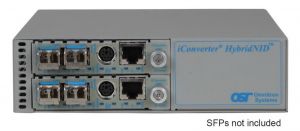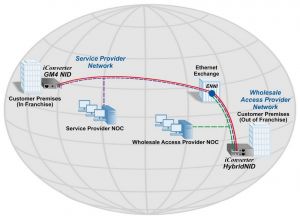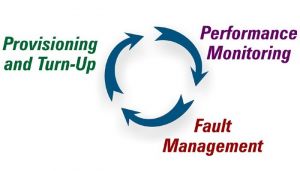 adatlap
Jellemzők
Simplifies the delivery of wholesale Carrier Ethernet Services and enables value-added SLA assurance
Provider Bridge VLAN stacking for service multiplexing of multiple E-LINE and E-LAN services
End-to-End Service OAM with IEEE 802.1ag Connectivity Fault Management and ITU-T Y.1731 Performance Monitoring
MEF 9, 14 and 21 Certified Compliant
MEF 30 and 31 Compliant
Zero-touch and one-touch provisioning for rapid service deployment
ITU-T Y.1564 Ethernet Service Activation testing
RFC 2544 built-in test head and loopback with MAC swap
Compatible with third party testers
Complete standards compliance and demonstrated Service OAM interoperability with third-party equipment
Tiered back-up and restore of service provisioning configurations
Dual management elements with secure access for Service Provider and Wholesale Access Provider
Remote management through SNMPv1/v2c/v3, IP-less 802.3ah OAM extensions, TELNET and SSH
SNMP management via Omnitron's NetOutlook® Network Management Software or 3rd party software
Fully integrated with Cyan CyPortal®
ITU-T G.8031 Ethernet Linear Protection and redundant SFP ports for service protection
Commercial (0 to 50ºC) and wide (-40 to 60ºC) operating temperature ranges
Alkalmazás
The iConverter HybridNID™ is a Network Interface Device that enables the delivery of wholesale Carrier Ethernet 2.0 services across multiple-operator networks. With the iConverter HybridNID installed at the customer premises or cell tower, both a Service Provider and Wholesale Access Provider partner can independently provision, manage and monitor the Carrier Ethernet service.
The iConverter HybridNID clearly defines the service responsibilities between the Service Provider and the Wholesale Access Provider. The Wholesale Access Provider owns, installs, manages and maintains the iConverter HybridNID, which is part of the Wholesale Access Provider's transparent Ethernet service that is leased by the Service Provider. The Service Provider also has management access to provision the end-to-end service attributes. Both the Wholesale Access Provider and Service Provider can monitor Service OAM functions.
The iConverter HybridNID features dual management entities with secure and independent management access for the Wholesale Access Provider and the Service Provider. Wholesale Access Provider management is accessed from the Network Operations Center (NOC) via the Access Provider's network. Service Provider management is accessed remotely through the Access Provider's network using the management CE-VID.
This unified demarcation simplifies service maintenance at out-of-franchise customer locations. The Wholesale Access Provider can focus on providing transparent Ethernet service and the hardware logistics, without worrying about the details of subscriber service attributes. The Service Provider can focus on providing end-to-end Ethernet service and SLA enforcement, without having to address remote sparing and truck roll logistics.
The iConverter HybridNID can be remotely managed through TELNET, SNMPv1/v2c/v3, SSH and IP-less 802.3ah OAM extensions. SNMP management is accessed via Omnitron's NetOutlook® Network Management software.
Physical port interfaces include 100BASE-FX and 1000BASE-X Small Form Pluggable Transceivers for standard or CWDM wavelengths. Management interface ports and Customerfacing service ports are available in copper RJ-45 or SFP fiber interfaces.
Paraméterek
Description
iConverter Hybrid Network Interface Device
Protocols
10BASE-T, 100BASE-TX, 1000BASE-T, 100BASE-FX, 1000BASE-X
Other Protocols
TCP/IP, ICMP, ARP, RSTP, SNTP, DAYTIME
Compliances
UL, cUL, CE, FCC Class A, NEBS 3 Compliant,
MEF 9, MEF 14, and MEF 21 Certified Compliant
MEF 30 and 31 Compliant
IP Management
TELNET, SNMPv1, SNMPv2c, SNMPv3, SSH
Frame Size
Up to 10,240 bytes
Ports 
Copper:
SFP:

Serial:
(2) RJ-45
(4) MSA compliant fiber SPFs;  SGMII 10/100/1000BASE-T Copper SFPs
(2) Mini DIN-6 female, included
Power Supply 
Fixed Internal
Typical Input Power Requirements 
AC Power:
DC Power:
100 to 240VAC, 50/60Hz , 0.5A @ 120VAC
+/- 18 to 60VDC, -48VDC @ 2.0A
Power Connector
AC Power:
DC Power:
IEC-320
3-Pin Terminal Connector
Temperature
Standard Operating:
Wide Operating:
Storage:
0 to 50°C
-40 to 60°C
-40 to 80°C
Dimensions
W 6.7" x D 5.51" x H 1.87"
Weight
2.5 lbs
Humidity
5 to 95% (non-condensing)
Altitude
-100m to 4000m
MTBF (hrs)
AC Power:
DC Power:
120,000
130,000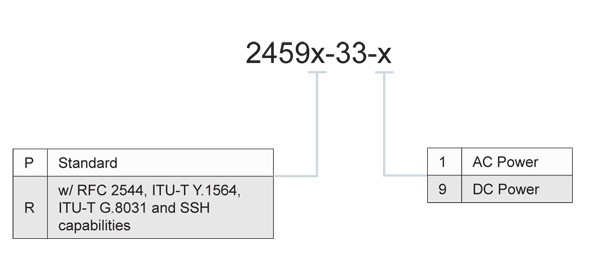 iConverter HybridNID (Data Sheet)