iConverter GM3
Network Interface Devices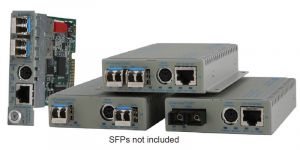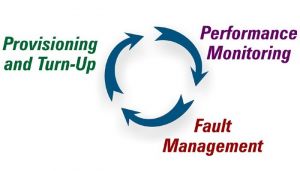 adatlap
Jellemzők
Network Interface Device for 1000Mbps and 100Mbps Carrier Ethernet Fiber Access
802.1ad VLAN stacking (Q-in-Q) for E-Line and E-LAN service multiplexing
MEF 9, 14 and 21 Certified Compliant
MEF 30 and 31 Compliant
IEEE 802.1ag End-to-End Connectivity Fault Management (CFM)
ITU-T Y.1731 End-to-End Performance Monitoring
Zero-Touch Provisioning
Granular Rate Limiting using Committed Information Rate (CIR) and Committed Burst Size (CBS) per UNI, EVC and CoS
Remote management through TELNET, SNMPv1/v2c/v3 and IP-less 802.3ah OAM extensions
SNMP management via Omnitron's NetOutlook® Network Management software
Geo-diverse uplink redundancy (1:1) option
Supports 1000BASE-X and 100BASE-FX Small Form Pluggable (SFP) transceivers for standard or CWDM applications
Customer-facing service ports available in copper RJ-45 or SFP fiber interfaces
10,240 byte Jumbo frames
Commercial (0 to 50ºC), wide (-40º to 60ºC) and extended (-40º to 75º C) temperature ranges
Alkalmazás
The iConverter GM3 is a flexible and cost-effective Network Interface Device (NID) with Service and Link Operations, Administration and Maintenance (OAM) capabilities. The GM3 provides Carrier Ethernet service demarcation with rapid service activation, SLA assurance and fault management.
The GM3 supports MEF-certified User-to-Network Interface (UNI) functions such as Class of Service (CoS) prioritization, granular rate-limiting, service multiplexing, traffic policing and shaping, and service mapping.
The GM3 supports carrier-class Ethernet Service OAM standards. IEEE 802.1ag Connectivity Fault Management (CFM) proactively monitors service availability and provides tools for rapid fault isolation. ITU-T Y.1731 Performance Monitoring provides the ability to monitor key SLA parameters including frame delay, frame delay variation and frame loss. These OAM features provide proactive fault detection and rapid isolation of potential service problems, enabling SLA assurance while reducing Operational costs (OPEX).
iConverter GM3 NIDs provide industry-leading interoperability with the most comprehensive 802.1ag and Y.1731 standards implementations.
Zero-Touch Provisioning (ZTP) allows providers to achieve efficiencies in service activation that accelerate turn up and reduce the need for onsite technicians. ZTP allows service provisioning to be centralized, standardized and remotely managed.
The GM3 fiber ports support Gigabit (1000BASE-X) or Fast Ethernet (100BASE-FX) SFP transceivers, and the copper interface operates at 1000, 100 or 10Mbps. The GM3 is available in 2-port or 3-port options. The 3-port configuration supports geo-diverse redundant access links or multi-tenant demarcation with two subscriber ports.
The GM3 is available as a compact standalone unit or as a chassis plug-in module. The GM3 plug-in module can be mounted in any iConverter chassis and manage other modules in the same chassis, and operate as a Network Interface Device. It features two Gigabit Ethernet backplane ports for connectivity to adjacent modules in a chassis for multi-port and multi-service configurations.
The standalone GM3 is available with or without integrated mounting brackets. It is DC powered and available with an external AC/DC power adapter, or with a terminal connector for wiring directly to a DC power source.
The GM3 also functions as a fiber transport module for the modular iConverter T1/E1 and Ethernet Multiplexer System.
Paraméterek
Description
10/100/1000BASE-T to 100BASE-FX or 1000BASE-X
Network Interface Device
Protocols
10BASE-T, 100BASE-TX, 1000BASE-T,
100BASE-FX, 1000BASE-X
Other Protocols
TCP/IP, ICMP, ARP, RSTP, SNTP, DAYTIME
IP-Based Mgt.
Telnet, SNMPv1, SNMPv2c, SNMPv3
Compliances
UL, cUL, CE, FCC Class A, NEBS 3 compliant,
MEF 9, MEF 14, MEF 21, MEF 30, MEF 31
Frame Size
up to 10,240 bytes
UTP Cable
EIA/TIA 568 A/B, Category 5 and higher
Fiber Cable
Multimode:
Single-mode:
50/125um, 62.5/125um, 100/140um
9/125um
Serial Cable
RS-232, 22 to 24 AWG, 12 to 50 pF/ft.
Copper Connectors
RJ-45 
Fiber Connectors
SFP:

Dual Fiber:
Single Fiber:
Any MSA Standard LC,
RJ-45 (1000, 10/100/1000Mbps)
SC, ST
SC
Serial Connector
Mini DIN-6 female;
Mini DIN-6 male to DB-9 female adapter included
Temperature
Standard Operating:
Wide Operating:
Extended Operating:
Storage:
0 to 50o C
-40 to 60o C
-40 to 75o C
-40 to 80o C
DC Power Input Connector
Plug-in:
Standalone:
Power supplied by backplane
2.5mm Barrel Connector or 2-Pin Terminal Connector
DC Power

2 Port 

Plug-in Module:
3 Port Plug-in Module
 Standalone:

 
 1.6A @ 3.3VDC (Typical)
2.0A @ 3.3VDC (Typical)
8 - 32VDC
0.60A @ 9VDC (typical)
0.45A @ 12VDC (typical)
AC Power Adapter
AC Power Adapter:


100 - 240VAC/60Hz
0.1A @ 120VAC (typical)
Dimensions
Plug-in Module:
Standalone (SA):
SA with integrated brackets:
W: 0.85" x D: 4.5" X H: 2.8"
W: 3.1" x D: 4.8" x H: 1.0"
W: 3.8" x D: 4.8" x H: 1.0"
Weight
Plug-in:
Standalone without Power Adapter:
Standalone with Power Adapter:
8oz.
1.0 lb.
1.5 lb.
Humidity
5% to 95% (non-condensing)
Altitude
-100m to 4,000m
MTBF (hrs)
Plug-in:
Standalone without Power Adapter:
Standalone with US Power Adapter:
Standalone with Universal Adapter:
340,000
420,000
250,000
100,000


FF - Fixed Fiber, UTP - Unshielded Twisted Pair, SFP - Small Form Pluggable Transceiver
*When using single-fiber (SF) media converter models, the Tx wavelength on one end has to match the Rx wavelength on the other.

iConverter GM3 Network Interface Devices (Data Sheet)