iConverter 4Tx VT
4-Port 10/100BASE-TX Managed
Ethernet Switch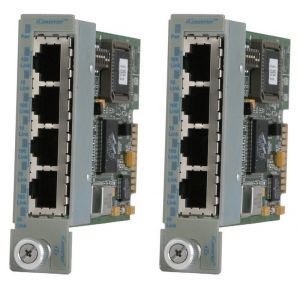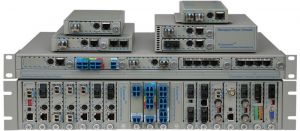 adatlap
Jellemzők
4-Port 10BASE-T or 100BASE-TX Ethernet switch module
Supports IEEE 802.1Q Tag VLAN, Q-in-Q Multi-tagging and Port VLAN
Supports IEEE 802.1p Prioritization QoS
Per port MIB Statistics reporting of 32 variables
Individual Port Bandwidth and Port Access Control
Flash-upgradable memory
Multiple 4Tx VT modules can be installed to expand the port concentration in a single chassis
UTP port supports auto-crossover, with 10/100 and Half or Full-Duplex auto-negotiation or forced setting
Backplane Ethernet ports for connectivity to adjacent modules
Management is available with the addition of a management module to the chassis
SNMP management via NetOutlook® provides real-time port and module information, remote parameter configuration and trap notification
Conforms to IEEE 802.3, 10BASE-T and 100BASE-TX specifications
Lifetime Warranty and free 24/7 Technical Support
Alkalmazás
The iConverter 4Tx VT 10/100 managed Ethernet switch module is a member of the iConverter product family. It provides a compact 4-Port 10/100 Ethernet switch that is expandable across the iConverter 19-Module, 5-Module and 2-Module chassis backplanes, as well as being supported as a stand-alone switch with the iConverter 1-Module Chassis.
The iConverter 4Tx VT supports the IEEE 802.1Q and 802.1p standards. It supports the 802.1Q VLAN packet tagging and untagging for segregating data in Enterprise networks, and enabling secure separation of Service Provider network management and customer data to improve security and intrusion protection.
The 802.1Q Q-in-Q stacked tags enable Service Providers to offer to their customers secure Ethernet Virtual Private Line services which isolates each customer's data traffic, as well as the Service Provider's management traffic.
The 4Tx VT supports the 802.1p prioritization for the delivery of Quality of Service (QoS) to real-time applications such as voice or video over Ethernet.
The iConverter 4Tx VT features Bandwidth and Port Access Controls. On a per port basis, the upstream and downstream traffic can be independently controlled by selecting from eight levels of bandwidth setting. The Port Access Control enables the network administrator to easily control and deny individual port access while maintaining port configuration for easy port re-enabling.
The ports feature 10/100Mbps, Half/Full-Duplex, and autonegotiation with both hardware and software controls. Hardware control is available for two ports while all four ports are under software control for these features. RJ-45 crossover support eliminates need for a crossover cable and facilitates connectivity to different types of network equipment. All four ports support an automatic crossover detection mode.
Two Ethernet backplane ports provide connectivity to adjacent modules for network expansion and for providing additional 10/100 UTP ports for iConverter modular NIDs.
The 4Tx VT supports reporting of MIB statistics. Statistics are available for 32 variables per port, reporting a wide range of real-time packet statistics to provide performance and operational monitoring.
The iConverter family of managed fiber access media converters are used in Service Provider access networks and Enterprise LANs. iConverter media converters provide fiber connectivity with copper-to-fiber, multimode fiber to single-mode fiber, or dual fiber to single-fiber conversions.
Paraméterek
Model Type
4Tx VT
Protocols
10BASE-T, 100BASE-TX
UTP Connectors
RJ-45
Controls
BP Enable, Auto/Man, 10/100, FDX/HDX
LED Displays
Power, 10/100 UTP Link
Dimensions
W:0.85" x D:4.5" x H:2.8"
Weight
8 oz.
Compliance
UL, CE, FCC Class A
Power Requirement
0.7A @ 3.3VDC (typical)
Temperature
Standard: 0 to 50º C
Wide: -40 to 60º C
Storage: -40 to 80º C
Humidity
5 to 95% (non-condensing)
Altitude
-100m to 4000m
MTBF (hrs)
740,000
| Model Type | Connectors | Distance |
| --- | --- | --- |
| 8481-4 | RJ-45 x 4 | 100m |

For wide temperature (-40 to 60º C) modules, add a "W" to the end of the model number.
Consult factory for other configurations and extended temperature (-40 to +75º C) modules.
Chassis and Mounting Options Ordering Table
 
19-Module
5-Module
2-Module
1-Module
Configuration
AC
(60 watts)
AC
(120 watts)
24VDC
48VDC
AC
24VDC
48VDC
AC
18-60DC
US AC
UNIV AC
One (1) Power Supply
8200-1
8201-1
8206-1
8205-1
8220-1
8226-1
8225-1
8230-0
8235-0
8240-1
8240-2
One (1) Power Supply with Dying Gasp Support
-
-
-
-
-
-
-
8230-1
8235-1
8241-1
8241-2
Two (2) Power Supplies
8200-2
8201-2
8206-2
8205-2
8220-2
8226-2
8225-2
-
-
8245-111*
8245-112*
Three (3) Power Supplies
8200-3
8201-3
8206-3
8205-3
-
-
-
-
-
-
-
Spare Power Supply
8200-9
8201-9
8206-9
8205-9
8220-9
8226-9
8225-9
-
-
-
-
23" Rack Mounting Kit
8091-2
8091-2
8091-2
8091-2
8092-2
8092-2
8092-2
-
-
-
-
Blank Module Panel
8090-0
8090-0
8090-0
8090-0
8090-0
8090-0
8090-0
8090-0
8090-0
-
-
Wall Mounting Hardware Kit
-
 
-
-
-
-
-
8249-0
8249-0
8249-0
8249-0
1U 19" Rack Mount Shelf
-
-
-
-
-
-
-
8260-0
8260-0
8260-0
8260-0
DIN Rail Mounting Kit
-
 
-
-
-
-
-
-
-
8250-0
8250-0
 
When ordering a Wide Temperature chassis, add a W to the end of the part number. For example:8230-1W
Consult factory for extended temperature (-40 to +75º C) models.
* Click on part number for complete ordering information on the 1-Slot Redundant Power Chassis with Power over Ethernet