iConverter 4GT
4-Port 10/100/1000BASE-T
Managed Ethernet Switch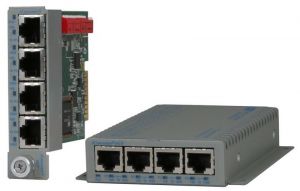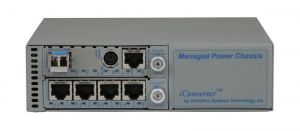 adatlap
Jellemzők
4-Port 10/100/100BASE-T Ethernet switch module
Backplane Ethernet ports for connectivity to adjacent modules in the chassis
Quality of Service and traffic prioritization supported via Class of Service P-bit value
Management of the plug-in module is available with the addition of a management module to the chassis

VLAN with 802.1ad Q-in-Q for Carrier and Enterprise Ethernet deployment
Bandwidth rate-limiting in 64kb increments
Port MIB statistics
Port Access Control for enhanced security
Remote management through SNMP v1/v2c/v3
SNMP management via NetOutlook® provides real-time port and module information, remote parameter configuration and trap notification

Commercial (0 to 50ºC) and wide (-40 to 60ºC) operating temperature ranges
Lifetime Warranty and free 24/7 Technical Support
Alkalmazás
The iConverter 4GT is a four-port 10/100/1000 Ethernet switch. It is available as a compact unmanaged standalone unit or a managed chassis plug-in module. The plug-in modules offers networking features including rate-limiting, traffic classification and prioritization, and VLAN capability.
The four RJ-45 ports support 10/100/1000Mbps, Half/Full-Duplex and auto-negotiation. These features are configurable using DIP switches or through software management. The 4GT supports RJ-45 auto-crossover (MDI/MDI-X) on all four ports, eliminating the need for a crossover cable and facilitating connectivity to different types of Ethernet equipment.
The 4GT supports traffic prioritization according to Class of Service (CoS) prioritization scheme. Incoming frames are assigned to one of four egress queues based on the VLAN tag P-bit value. This allows high priority traffic, such as voice traffic, to egress the network with no impact from lower priority traffic during congestion.
The hot-swappable plug-in module can be mounted in a 19 or 5-Module iConverter chassis with any combination of redundant AC and DC power supplies. It can also be mounted in a 2-Module AC or DC powered chassis, or in a 1-Module chassis with AC or DC power input.
When the 4GT plug-in module is installed in an iConverter chassis, its two 10/100/1000Mbps Ethernet backplane ports may provide connectivity to adjacent iConverter modules for network expansion. A common application of this feature is to combine multiple modules in a chassis to provide an Ethernet solution with four additional 10/100/1000 ports.
As a standalone unit, the 4GT is available with an external AC/DC power adapter or with a 2-position terminal connector for direct connection to DC power.
The 4GT is part of the iConverter multi-service platform, and can be installed in a chassis equipped with iConverter Network Interface Devices, media converters, transponders and CWDM multiplexers. The multi-service platform is capable of delivering Ethernet, TDM, SONET and other services across a wide area network. iConverter modules can be added to this scalable architecture to expand bandwidth capacity and add new services.
Paraméterek
Description
iConverter 4GT Managed Ethernet Switch
Protocols
10BASE-T, 100BASE-TX, 1000BASE-T
*Compliances
UL, cUL, CE, FCC Class A, NEBS 3 Compliant
IP Management
TELNET, SNMPv1, SNMPv2c, SNMPv3
Frame Size
Up to 10,240 bytes
Ports
Copper:
Backplane:
(4) RJ-45
(2) Plug-in only
DC Power Input Connector
Plug-in:
Standalone:
Power supplied by backplane
2.5mm Barrel Connector or 2-Pin Terminal Connector
DC Power
Plug-in:
Standalone:
1.1A @ 3.3VDC (typical)
7-60VDC, 0.3A @ 9VDC (typical)
AC Power Adapter (US) via 2.5mm Barrel Connector
Plug-in:
Standalone:
N/A
100 to 120VAC, 60Hz 0.1A @ 120VAC (typical)
AC Power Adapter (Universal) via 2.5mm Barrel Connector
Plug-in:
Standalone:
N/A
100 to 240VAC, 50/60Hz 0.1A @ 120VAC (typical)
Temperature
Standard Operating:
Wide Operating:
Storage:
0 to 50°C
-40 to 60°C
-40 to 80°C
Dimensions
Plug-in:
Standalone:
W: 0.85" x D: 4.5" x H: 2.8"
W: 3.8" x D: 4.8" x H: 1.0"
Weight
Plug-in:
Standalone w/o power adapter:
Standalone:
8oz.
1.0 lb.
1.5 lb.
Humidity
5 to 95% (non-condensing)
Altitude
-100m to 4000m
MTBF (hrs)

Without Power Adapter
With US Power Adapter
With Univ. Power Adapter
Plug-in:

Standalone:
Standalone:
Standalone:
450,000

600,000
250,000
100,000

For wide temperature (-40 to 60º C) modules, add a "W" to the end of the model number.
Consult factory for other configurations and extended temperature (-40 to +75º C) modules.
Chassis and Mounting Options Ordering Table
 
19-Module
5-Module
2-Module
1-Module
Configuration
AC
(60 watts)
AC
(120 watts)
24VDC
48VDC
AC
24VDC
48VDC
AC
18-60DC
US AC
UNIV AC
One (1) Power Supply
8200-1
8201-1
8206-1
8205-1
8220-1
8226-1
8225-1
8230-0
8235-0
8240-1
8240-2
One (1) Power Supply with Dying Gasp Support
-
-
-
-
-
-
-
8230-1
8235-1
8241-1
8241-2
Two (2) Power Supplies
8200-2
8201-2
8206-2
8205-2
8220-2
8226-2
8225-2
-
-
8245-111*
8245-112*
Three (3) Power Supplies
8200-3
8201-3
8206-3
8205-3
-
-
-
-
-
-
-
Spare Power Supply
8200-9
8201-9
8206-9
8205-9
8220-9
8226-9
8225-9
-
-
-
-
23" Rack Mounting Kit
8091-2
8091-2
8091-2
8091-2
8092-2
8092-2
8092-2
-
-
-
-
Blank Module Panel
8090-0
8090-0
8090-0
8090-0
8090-0
8090-0
8090-0
8090-0
8090-0
-
-
Wall Mounting Hardware Kit
-
 
-
-
-
-
-
8249-0
8249-0
8249-0
8249-0
1U 19" Rack Mount Shelf
-
-
-
-
-
-
-
8260-0
8260-0
8260-0
8260-0
DIN Rail Mounting Kit
-
 
-
-
-
-
-
-
-
8250-0
8250-0
 
When ordering a Wide Temperature chassis, add a W to the end of the part number. For example:8230-1W
Consult factory for extended temperature (-40 to +75º C) models.
* Click on part number for complete ordering information on the 1-Slot Redundant Power Chassis with Power over Ethernet