iConverter Network Interface Devices (NIDs)

iConverter Network Interface Devices (NIDs) enable MEF-certified Ethernet service demarcation with carrier-grade Operations, Administration and Maintenance (OAM) and provisioning capabilities.  Széles választéka érhető el a réz – optika, optika – optika átalakítóknak, melyek támogatják a 100 és 1000Mbps optikai csatlakozást fix, vagy moduláris rendszerű optikai modulokkal (SFP).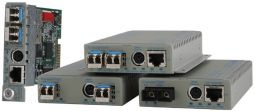 The iConverter GM4 NID provides tools for optimizing service delivery and managing the customer experience throughout the Lifecycle of an Ethernet Service. Network management combined with Service OAM provides higher perceived service quality and workforce productivity, rapid outage restoration, fewer reported problems and greater customer satisfaction.
---