CONTEG iSEVEN Flex RM7
FREE STANDING RACKS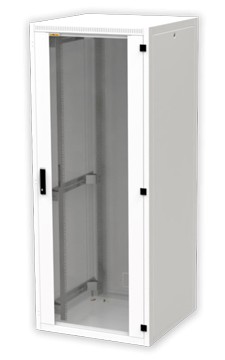 Jellemzők
Height: 21, 27, 42 and 45U
Width: 600 and 800 mm
Depth: 600, 800 and 1000 mm
Construction: Robust frame construction, joined together with M6 screws, easy and quick assembly, delivered unassembled; assembly at installation site.
Load rating: 300 kg (21 and 27U) and 400 kg (42 and 45U)
Doors: 2 types of doors (type G or S) for front and rear installation and 1 type of rear panel, door opening angle 180°, can be easily changed to open on right or left
Side panels: easily removable with lock
Top and bottom plates: holes for ventilation unit and cable entries. Number of holes depends on selected footprint.
Extrusions: 2 pairs of sliding 19" L-type extrusions
IP rating: IP30
Colors: powder coated RAL 7035 a RAL 9005
Alkalmazás
The iSEVEN Flex RM7 racks was designed for users whose space constraints do not allow for the installation of rack series iSEVEN (RI7) with welded construction. These racks are known for their unmatched balance between price, utility value and quality. The iSEVEN Flex racks are delivered unassembled for an easy transportation to the installation site where they can be built quickly and easily.
This type of rack is the ideal choice for installers and end-users who want to spend less time on choosing between various options and configuring difficult product part numbers. After thorough research, we have prepared for you a list of the most common sizes that fit one universal design.
The iSEVEN Flex rack is ideal for network equipment rooms, telecommunication closets and computer rooms when special configurations for load ratings, cable entries or door/panel options are not critical. The number of options is balanced by a highly competititve price and excellent availability.
Standard configuration:

Rack is delivered unassembled in boxes.
Code ‑
Standard
configuration¹
H in U
Dimensions of the rack in mm
Package dimensions (mm)
H*
W
D
Useful
depth
Package 1
RM7‑CO‑xx/yy²
Package 2
RM7‑TB‑yy/zz²
Package 3
RM7‑DO‑xx/yy²
Package 4
RM7‑SP‑xx/zz²
Package 5
RM7‑HVE‑yy/zz²
RM7‑21‑60/60‑X
21
1044
600
600
590
105x140x1165
630x620x135
550x70x955
520x990x85
‑
RM7‑27‑60/60‑X
27
1311
600
600
590
105x140x1430
630x620x135
550x70x1255
520x1255x85
‑
RM7‑42‑60/60‑X
42
1978
600
600
590
105x140x2100
630x620x135
550x70x1890
520x1920x85
185x75x100
RM7‑45‑60/60‑X
45
2111
600
600
590
105x140x2230
630x620x135
550x70x2020
520x2055x85
185x75x100
RM7‑21‑60/80‑X
21
1044
600
800
790
105x140x1165
630x820x135
550x70x955
720x990x85
‑
RM7‑27‑60/80‑X
27
1311
600
800
790
105x140x1430
630x820x135
550x70x1255
720x1255x85
‑
RM7‑42‑60/80‑X
42
1978
600
800
590
105x140x2100
630x820x135
550x70x1890
720x1920x85
185x75x100
RM7‑45‑60/80‑X
45
2111
600
800
790
105x140x2230
630x820x135
550x70x2020
720x2055x85
185x75x100
RM7‑27‑60/100‑X
27
1311
600
1000
990
105x140x1430
630x1020x135
550x70x1255
920x1255x85
‑
RM7‑42‑60/100‑X
42
1978
600
1000
990
105x140x2100
630x1020x135
550x70x1890
920x1920x85
185x75x100
RM7‑27‑80/80‑X
27
1311
800
800
790
105x140x1430
1005x820x135
750x70x1255
720x1255x85
‑
RM7‑42‑80/80 ‑X
42
1978
800
800
790
105x140x2100
1005x820x135
750x70x1890
720x1920x85
185x75x100
RM7‑45‑80/80‑X
45
2111
800
800
790
105x140x2230
1005x820x135
750x70x2020
720x2055x85
185x75x100
RM7‑27‑80/100‑X
27
1311
800
1000
990
105x140x1430
1005x1020x135
750x70x1255
720x1255x85
‑
RM7‑42‑80/100‑X
42
1978
800
1000
990
105x140x2100
1005x1020x135
750x70x1890
920x1920x85
185x75x100
RM7‑45‑80/100‑X
45
2111
800
1000
990
105x140x2230
1005x1020x135
750x70x2020
920x2055x85
185x75x100
* Height in mm without feet; for feet add 16‑45mm
¹Substitute X with desired color: B – 7035 (light grey), H – 9005 (black)
²xx – Rack height; yy – Rack width; zz – Rack depth
Transition table
Code ‑
Standard configuration¹
Codes of packages¹
RM7‑21‑60/60‑X
RM7‑CO‑21/60‑X
RM7‑TB‑60/60‑X
RM7‑DO‑21/60‑X
RM7‑SP‑21/60‑X
 
RM7‑27‑60/60‑X
RM7‑CO‑27/60‑X
RM7‑TB‑60/60‑X
RM7‑DO‑27/60‑X
RM7‑SP‑27/60‑X
 
RM7‑42‑60/60‑X
RM7‑CO‑42/60‑X
RM7‑TB‑60/60‑X
RM7‑DO‑42/60‑X
RM7‑SP‑42/60‑X
RM7‑HVE‑60/60
RM7‑45‑60/60‑X
RM7‑CO‑45/60‑X
RM7‑TB‑60/60‑X
RM7‑DO‑45/60‑X
RM7‑SP‑45/60‑X
RM7‑HVE‑60/60
RM7‑21‑60/80‑X
RM7‑CO‑21/60‑X
RM7‑TB‑60/80‑X
RM7‑DO‑21/60‑X
RM7‑SP‑21/80‑X
 
RM7‑27‑60/80‑X
RM7‑CO‑27/60‑X
RM7‑TB‑60/80‑X
RM7‑DO‑27/60‑X
RM7‑SP‑27/80‑X
 
RM7‑42‑60/80‑X
RM7‑CO‑42/60‑X
RM7‑TB‑60/80‑X
RM7‑DO‑42/60‑X
RM7‑SP‑42/80‑X
RM7‑HVE‑60/80
RM7‑45‑60/80‑X
RM7‑CO‑45/60‑X
RM7‑TB‑60/80‑X
RM7‑DO‑45/60‑X
RM7‑SP‑45/80‑X
RM7‑HVE‑60/80
RM7‑27‑60/100‑X
RM7‑CO‑27/60‑X
RM7‑TB‑60/100‑X
RM7‑DO‑27/60‑X
RM7‑SP‑27/100‑X
 
RM7‑42‑60/100‑X
RM7‑CO‑42/60‑X
RM7‑TB‑60/100‑X
RM7‑DO‑42/60‑X
RM7‑SP‑42/100‑X
RM7‑HVE‑60/100
RM7‑27‑80/80‑X
RM7‑CO‑27/80‑X
RM7‑TB‑80/80‑X
RM7‑DO‑27/80‑X
RM7‑SP‑27/80‑X
 
RM7‑42‑80/80 ‑X
RM7‑CO‑42/80‑X
RM7‑TB‑80/80‑X
RM7‑DO‑42/80‑X
RM7‑SP‑42/80‑X
RM7‑HVE‑80/80
RM7‑45‑80/80‑X
RM7‑CO‑45/80‑X
RM7‑TB‑80/80‑X
RM7‑DO‑45/80‑X
RM7‑SP‑45/80‑X
RM7‑HVE‑80/80
RM7‑27‑80/100‑X
RM7‑CO‑27/80‑X
RM7‑TB‑80/100‑X
RM7‑DO‑27/80‑X
RM7‑SP‑27/100‑X
 
RM7‑42‑80/100‑X
RM7‑CO‑42/80‑X
RM7‑TB‑80/100‑X
RM7‑DO‑42/80‑X
RM7‑SP‑42/100‑X
RM7‑HVE‑80/100
RM7‑45‑80/100‑X
RM7‑CO‑45/80‑X
RM7‑TB‑80/100‑X
RM7‑DO‑45/80‑X
RM7‑SP‑45/100‑X
RM7‑HVE‑80/100
¹Substitute X with desired color: B – 7035 (light grey), H – 9005 (black)