miConverter™ Miniature Media Converters
miConverter Miniature Media Converters and Chassis
The miConverter miniature Ethernet media converters provide cost-effective fiber connectivity from the network core to a desktop or a portable laptop.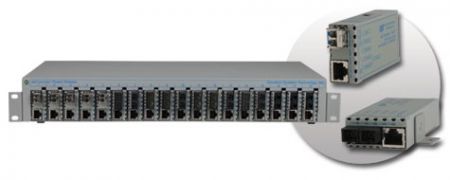 Technologies Supported:
10/100 Ethernet
Gigabit Ethernet
Module Types:
Copper UTP to Fiber Optic
A special USB power adapter cable allows the miConverter to be powered by a USB or USB 2.0 port, eliminating the need for an electrical outlet. The miConverter is also available with an external AC power supply, and is available in US or a variety of International models.
The miConverter GX/T is available with Small Form Pluggable (SFP) Transceivers.  SFPs enable adaptability to different fiber types, speed and distances, and support Coarse Wave Division Multiplexing (CWDM) technology to increase the bandwidth capacity of fiber infrastructure.
The miConverter 18-Module Power Chassis is a cost-effective mounting and powering solution for miConverter miniature media converters. This compact chassis consolidates individual media converters into a high-density, rack mountable form factor.
---