CoolTeg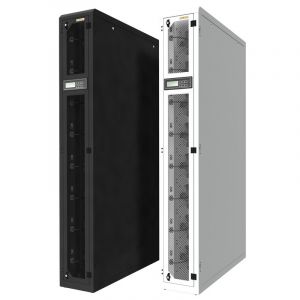 CoolTeg cooling units solutions are designed to address the very high density heat loads typically found in today's data center or equipment room. The side mount solutions can be applied as the main cooling system in various types of data centers. Open and Closed air loop architectures give a high degree of design flexibility to ensure that the cooling needs of the equipment can be met, whatever the design criteria may be. The highly efficient cooling units are available with capacities up to 36kW in a 300mm wide footprint to ensure that even the most demanding computing equipment environment can be kept at the optimum temperature.
OPEN AIR LOOP ARCHITECTURE is ideally suited for use in hot/cold and contained cold aisle deployments and can be used to supplement the existing cooling system within a facility to add capacity on a zone by zone basis. Warm air is sucked directly from the hot aisle, cooled by the side mounted cooling units before being delivered back into the cold aisle for use by the equipment. The range of available capacities means that it is now easy to meet zone cooling requirements in a hot/cold aisle deployment without over‑cooling the entire facility. Furthermore, side cooling can be combined with the CONTEG contained cold or hot aisle solution to further promote efficient use of chilled air leading to reduced facility operational costs.
CLOSED AIR LOOP ARCHITECTURE is ideally suited for very high heat density racks where traditionally delivered cooling air may not provide sufficient capacity for the very high thermal loads generated by equipment placed in the racks. Additionally, the side mount closed architecture ensures that heat generated within the cabinet is removed at the point of production and not released into the data center environment, thereby minimizing the chances of localized hot‑spots forming in the high density zones.
Jellemzők
Cooling capacities: up to 36kW
Height: 42, 45 or 48U
Width: 300mm
Depth: 1000 or 1200mm (1000mm not applicable for closed loop)
Welded frame construction of sheet steel
Available in Direct Expansion (DX) and Chilled Water (CW) variants
Electronic Control Board – cooling and chilled air throughput are CoolTeg controlled with microprocessors to ensure optimum cooling levels are maintained at all times
Plumbed to either outdoor condensers or the central chilled water systems. Pipes are laid below raised floor and routed to the chilled water or condenser installations
EC fans available
Alkalmazás
XC design brings a modern technology with inverter driven compressor by Mitsubishi Electric inside the unit. This arrangement provides precise and the most efficient cooling at any heat load. EC fans quietly and economically provide the necessary air flow to transfer the highest
cooling capacity. Five fans are able to deliver required cooling capacity also in case of failure of one of them. The entire unit is controlled by an integrated control box with display and control panel on the front door.
The cooler is connected to an outdoor condenser with continuously controlled fans, reaching the highest efficiency. CONTEG offers, in addition to the standard condenser, a unit designed for high outdoor temperatures up to 53 ° C and a low-noise solution suitable for data centers in urban areas.
The cooling system works with efficient and environmentally friendly R410A refrigerant.
 Inverter driven compressor built inside the
Suitable for Arctic and Tropical environments
 An ideal solution for the total heat load of 20 to 150kW
controlled by an integrated control box with display and control panel on the front door.
 EC fans
 Wide variety of settings
 Efficient and ecological refrigerant R410A
COOLTEG UNITS CW UNITS
 
Unit
AC‑SO‑CW/B4
AC‑SM‑CW/C4
Connected outdoor unit
‑
any chiller
any chiller
BASIC DATA
Architecture
‑
Open
Closed
Total cooling capacity
kW
5‑19
5‑36
Power supply
V/f/Hz
230 / 1/ 50
230 / 1/ 50
Air flow
m3/h
3 600
4000
AC FAN VERSION (standard)
Number of fans
pcs
5
5
Fan motor max. (each)
W/A
126/0,7
160/0,7
EC FAN VERSION (optionally)
Number of fans
pcs
5
5
Fan motor max. (each)
W/A
126/0,9
126/0,9
HEAT EXCHANGER
Type
‑
Copper tubes/Aluminum fins
Air face velocity
m/s
2,5
2,8
WATER CIRCUIT
Water flow
l/h
3330
6200
Water pressure drop total
kPa
75
142
Water valve
‑
3‑way modulating valve
FILTER
Quantity and shape
pcs/type
3 / zigzag
‑
Size
mm
600 x 180
‑
Depth
mm
100
‑
Class
-
EU3
‑
DIMENSIONS
Height
mm
1978 (42U), 2111 (45U), 2245 (48U)
Width
mm
300
300
Depth
mm
1000 or 1200
1200
COOLTEG DX  UNITS
 
Unit
AC‑SO‑DX/A8
AC‑SO‑DX/A8
AC-SM-DX/A8
AC‑SM‑DX/A8
Connected outdoor unit
‑
AC‑DX‑FDC125VN
AC‑DX‑FDC200VS
AC‑DX‑FDC125VN
AC‑DX‑FDC200VS
BASIC DATA
Architecture
‑
Open
Closed
Open
Closed
Total cooling capacity
kW
5‑14
7‑22
5‑14
7‑22
Power supply
V/f/Hz
230 / 1/ 50
230 / 1/ 50
230 / 1/ 50
230 / 1/ 50
Air flow
m3/h
3600
3600
4000
4000
AC FAN VERSION (standard)
Number of fans
pcs
5
5
5
5
Fan motor max. (each)
W/A
160/0,7
160/0,7
160/0,7
160/0,7
EC FAN VERSION (option)
Number of fans
pcs
5
5
5
5
Fan motor max. (each)
W/A
126/0,9
126/0,9
126/0,9
126/0,9
HEAT EXCHANGER
Type
‑
 
Air face velocity
m/s
2,5
2,5
2,8
2,8
WATER CIRCUIT
Water flow
l/h
‑
‑
‑
‑
Water pressure drop total
kPa
‑
‑
‑
‑
Water valve
‑
‑
‑
‑
‑
FILTER
Quantity and shape
pcs/type
3 / zigzag
3 / zigzag
‑
‑
Size
mm
600 x 180
600 x 180
‑
‑
Depth
mm
100
100
‑
‑
Class
-
EU3
EU3
‑
‑
DIMENSIONS
Height
mm
 
Width
mm
300
300
300
300
Depth
mm
1000 or 1200
1000 or 1200
1 200
1200
OUTDOOR UNITS FOR DX COOLERS
 
Unit
AC‑DX‑FDC125VN
AC‑DX‑FDC200VS
Nominal cooling capacity
kW
12.5 (5.0 – 14.0)
20.0 (7.0 – 22.4)
Phase
 
1 phase
3 phase
Power source
 
220‑240V 50Hz/220V60Hz
380‑415V 50Hz/380V 60Hz
Cooling power consumption
kW
4.05/4.05
6.58/6.58
Running current
A
17.6/18.6
9.9/10.6
Power factor
%
99/99
96/94
Inrush current (L.R.A.) / max. running curent
A/A
5/24
5/24
Noise level
dB(A)
50
57
Exterior dimensions
H/W/D mm
845/970/370
1300/970/370
COMPRESSOR
Type
 
RMT5126MDE2
GTC515ND70K
Starting method
 
direct line start
Type of control
 
electronic expansion valve
REFRIGERANT
Type
 
R410A
Quantity (pre‑charged up to piping length of 30m)
kg
3,8
5,4
AIR HANDLING EQUIPMENT
Fan
type/qty
propeler fan/1
propeler fan/2
Motor
W/qty
86/1
86/2
COOLTEG XC UNITS
 
Unit
AC‑SO-XC/B4
Connected outdoor condenser
‑
AC-COND 1-35
BASIC DATA
Total cooling capacity*
kW
22,5
Sensible cooling capacity*
kW
22,0
Sensible cooling capacity coefficient*
kW
0,978
Total compressor consumption*
kW
7,4
VENTILLATION CIRCUIT
Air flow
m3/h
4300
Number of EC radial fans
pcs
5
Fan power supply
 
200-277V/1f/50-60Hz
ELECTRICAL DATA
Unit power supply
‑
400 V / 3f / 50‑60 Hz
Max compressor current
A
16,0
Max current each fan
A
1,3
DIMENSIONS
Height
mm/U
1978/42, 2111/45, 2245/48
Width
mm
400
Depth
mm
1200
*Nominal conditions:
Supply air temperature 19.5 °C, intake air temperature 35 °C, relative humidity of the intake air 30 %, refrigerant R410A, condensing temperature  45 °C, net cooling capacity (including loss of power to fans)
OUTDOOR CONDENSER FOR XC UNITS
 
Unit
AC-COND 1-35
Power source
 
230V/1f/50Hz
DIMENSIONS
Height
mm
1880
Width
mm
770
Depth
mm
730